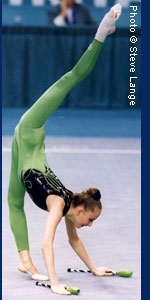 In European championships competition, Zaripova was third place all-around (juniors) in '91; third all-around, first with ball and clubs, and third with hoop and ribbon in '94; first with clubs in '96; and eighth with clubs in '98.
She also placed first all-around at the '94 Goodwill Games and fourth all-around at the '96 Olympics.
After a brief comeback in 1999, Zaripova retired again. She has worked as a model and has performed in gymnastics exhibitions, and is currently coaching young rhythmic gymnasts in Moscow. "I can manage a different life very well; I can't do only gymnastics," says Zaripova of her post-competitive prospects.
Read more about Zaripova in the April 1996 and March 1999 issues of International Gymnast Magazine.
© Copyright International GYMNAST Magazine