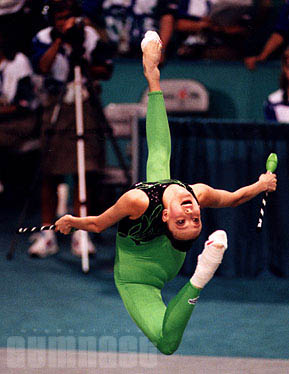 Amina Zaripova emerged as Russia's top rhythmic athlete. Her legendary flexibility and signature style quickly made her a fan favorite.
Born in Uzbekistan, Zaripova moved with coach Irina Viner to Moscow to train. A late bloomer, Zaripova didn't enter the gym until age 10.
Though she has never earned world all-around gold (she was 2nd in '94), Zaripova can claim several individual titles -- most notably with her best events, ball & clubs.
Her best meet was the 1994 Goodwill Games, where she claimed the all-around and three of the four event golds (all but ribbon).
In the mid-1990s, Zaripova began to feel pressure from talented teammate Yanina Batryshina, who finished 2nd at the 1996 Olympics -- two places ahead of the older Zaripova.
In 1997, Zaripova underwent surgery for a torn Achilles tendon and, in late 1998, announced her retirement from the sport saying she was "too tired" to continue.
But Zaripova wasn't quite finished. Despite facing stiff competition from youngster Alina Kabaeva, early this year Zaripova announced her comeback by taking part in the L.A. Lights International. "I wasn't finished," she told IG. "I wanted to do more."
You can read more about Zaripova and her comeback in the March issue of IG!
photo by: Eileen Langsley © IG '96