Bianca Panova (BUL)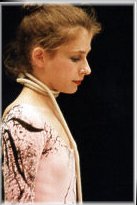 Született: 28 May 1970
Venerated for her perfect tally of 80.00 at the 1987 world championships, Bulgaria's Bianca Panova remains one of rhythmic gymnastics' most durable figures.
Born May 27, 1970, Panova won her first world title in 1985, tying for gold with ribbon. The following year, she shared the European all-around title and took two World Cup individual events outright. At the 1987 world championships, she scored 40.00 in the all-around and 10.0 in each of the four event finals. An obvious favorite for the 1988 Olympic title, Panova faltered in the first round of the Games to finished fourth, despite another 40.00 total in the all-around final.
Personal conflicts led to icy pre-Olympic tension between Panova and coach Neshka Robeva that "cost me the Olympic title," according to Panova.
Panova then began a modified training regimen with husband Chavdar Ninov, a sports physician. Under Robeva, she trained 16 hours every day; under Ninov, only six.
At the '89 world championships, she finished just .05 out of first place in the all-around and shared golds with rope and hoop.
Neverthless, she was removed without explanation from the Bulgarian team by Robeva prior to the '92 Olympics. For the past eight years, she and Ninov have resided in Belgium, where Bianca is coach of the Happy Gym club. The couple has a young son, Richard.
"Once you have felt it, you cannot forget it," Panova says of her rhythmic gymnastics glory, "and you always want to feel it."
© Copyright International GYMNAST Magazine
Achievements
Year

Event

Fed

Team

Qual

AA

1985

ESP

-

-

3

-

-

-

1

1986

ITA
JPN

-
-

-
-

1
4

1
3

4
1

1
3

2
1

1987

BUL

-

-

1

1

1

1

1

1988

FIN
KOR

-
-

-
4

5
4

4
-

1


-
-

1
-

1989

YUG

1

2

2

1

1

2

-

Pictures

Rhytmic Gymn.>Biography>Panova, Bianca