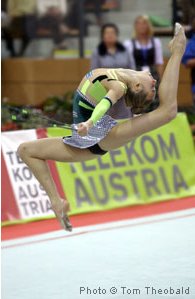 Long ranked behind famous teammates Anna Bessonova and Tamara Yerofeyeva, Natalia Godunko is emerging this year as a leading contender to represent Ukraine at this summer's Athens Olympic Games.
Godunko, 19, placed seventh all-around at the Athens International Tournament, a pre-Olympic test event held in March. Among other high finishes so far in 2004, she placed second all-around to Bessonova at the Deryugina Cup in her hometown of Kiev.
Like Bessonova and 2001 world all-around champion Yerofeyeva, Godunko trains under the mother-daughter coaching partnership of Albina and Irina Deryugina. (Irina Deryugina won the world rhythmic gymnastics all-around title in 1977 and 1979.)
Godunko has yet to qualify for an all-around final at the world or European Championships. At the 2003 worlds in Budapest, she had the 12th-highest all-around total of the preliminaries, but could not advance to the final because only two gymnasts per country were allowed. (Bessonova and Yerofeyeva placed ahead of her in the preliminaries.) Godunko may get her chance to make the European Championships all-around final, during this year's Europeans that will take place in June in Kiev.
April 2004