28th Rhythmic Gymnastics World Championships
INTERVIEW with...
... Anna Bessonova, 2007 World Champion of the Individual All-Around Competition
Photo (c) V. Minkus, http://www.minkusimages.de. Anna Bessonova (UKR).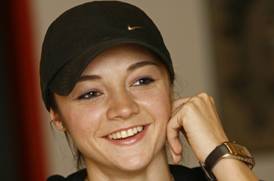 A mere few months to the Olympic Games of Beijing, the press and television are increasing their coverage on sport, the environment and doping. Are you aware of the messages they convey?
"I think it is important to talk about sport, and television does that very well. The Olympic Games are always a good time for television to talk prolifically about sport. Of course, issues such as the environment are very important and the Games are a good opportunity to remind people of that. As for doping, when television makes an issue of it, there must be serious problems; even our sport is not exempt from it".
You are a great champion with an impressive career. Staying at the top requires a lot of work and talent. Where do you feel you have to make the greatest effort to reach RG's top level?
"In Rhythmic Gymnastics, no results are possible without intense work. I work myself hard. You can't always see it, and the public isn't always aware of it. Talent and technical capability are also important. When I won the Gold medal at the World Championships in Patras, I finally realised just how important and essential all that work was. It was a great satisfaction to me".
How are you going to handle preparation for the Olympics? Are you looking at modifying or adjusting your performances, or simply improving your programme?
"The World Championships in Patras were a real test of my abilities in that they proved to me that my exercises were of good quality. The Championships allowed me to assess my performance prior to the Olympic Games. Of course, I'll be making a few adjustments for the next stage; I want to enhance the harmony between the artistic and technical aspects of my exercises".
Off the cuff, can you tell us about your likes and dislikes?
(Anna smiles and considers the question. We offer her some suggestions.)
"I like spending time with my family, going to the movies, or simply lying down when I'm tired. I like to be with my friends because they understand and support me.
I was brought up in a very sport-oriented family. My mother was a gymnast in the Ukrainian RG Group. My father was a professional soccer player. Today, he coaches soccer. My brother plays tennis.
I like listening to all kinds of music, but what kind I listen to depends on my mood at the moment. My mother is most definitely the person I admire most, as well as Irina Deriugina in sport.
Concerning women, my desire would be to advance our position, which is why I practise an exclusively female sport. I keep up on fashion by shopping and perusing magazines. My favourite colours are black and white. What I hate the most is being shouted down by an audience or having to train on an off day".
That's really hard for me! /nb